Why click through from my website?
Because at NO extra cost to you, going through that way actually gives us a little more income (and we appreciate that!) in the form of vouchers that I can spend on tools etc. through something called the Amazon affiliate scheme. The links will direct you to your country's Amazon site.
My autobiography: Making It Small
If you enjoy it (and if you're a miniaturist, or a serial creative, or interested in self building or living abroad, or someone with social phobia and/or anxiety issues then you should) please leave a review because that helps too.
Click to buy print copy
Click to read ebook
Not sure? Read the back page blurb here:
Miniaturist, self builder and serial creative Angie, never did things quite the way anyone thought she should. This is the story of how challenging and also how rewarding life can be if you take an unconventional path and stick with it in spite of all indications that disaster is looming. Angie and her 'Computer Geek' husband Frank's exploits in England and Andalucía are unusual, maddening, cringe-worthy and sometimes very funny indeed. There are moments of triumph and moments of despair. And almost always a blind faith and a can do attitude.
Woven through the whole story is her absolute passion for thinking up new creative ideas, sharing them and inspiring other people.
This rags to rags autobiography is both a cautionary and joyful tale for anyone thinking of living a non-traditional creative life, or anyone contemplating making the big leap to another country in the belief that it will all work out.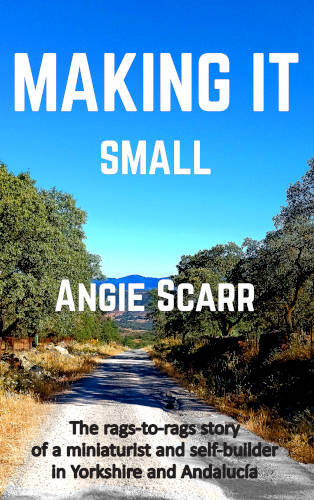 The Miniature Gardens Book
Once again Angie Scarr lets you peer into her workshop, her mind and, in this book, her garden. Leading you through more explorations into uses of polymer clay, liquid polymer and mixed media for a realistic depiction of nature presented in some simple and some more complex projects.
Click to buy print copy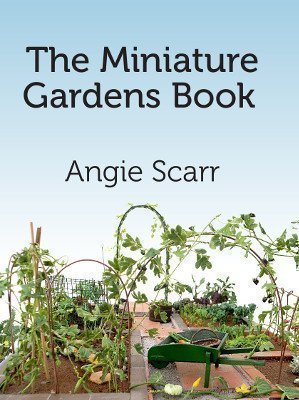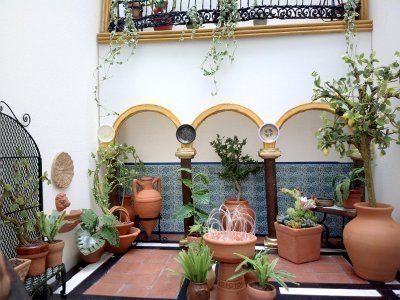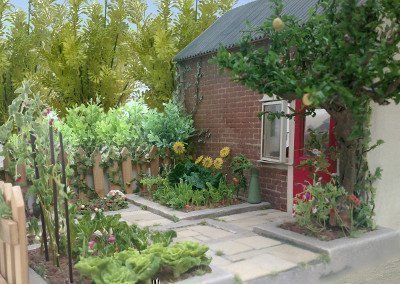 Angie Scarr's Colour Book
Nature's Colours For Polymer Clay, A5 size, 104 packed pages
This compact book of colour recipes techniques and projects is packed with short cuts, little projects, medium sized ideas and big questions. Pop it in your handbag and using the colour swatches make notes next time you see something that inspires you! Bring it home and create.
A distillation of Angie's 25 or more years of finding out she was just a little more obsessed with the colour of fruit and vegetables and other elements of nature than most 'normal' people!
When reproducing the colours of nature in polymer clay, pigment and light can become really complicated subjects as Angie discovered while writing this book. This is her exploration of and attempt to simplify the subject, and make it accessible to all while still providing some meaty questions for the professionals among her readers to get their teeth into.
Click to buy print copy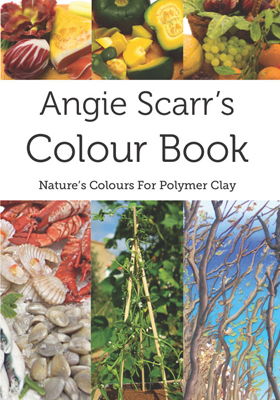 A new type of book! 3D Pen Colour & Construct
The 3D pen book!
Angie and Frank have co-operated to publish a new type of colouring book specifically for 3D pens with a fairy house theme. Lots of you will have been tempted by a 3D pen and may have one unused in your cupboard. You will find 4 styles of house at approximately 24th scale and loads of scenic full scale flowers and weeds in this 'just for fun' introduction ideal as a summer project. Start to work flat on paper and begin constructing afterwards and using armatures and other support materials.
Click to buy print copy
PLEASE NOTE the 3D Pen used in the book has just had a change that seems to make it only suitable for lower temperature filaments. We are evaluating and may remove it as a recommendation shortly.
Making Miniature Foods Book - redesigned
An updated design for the old favourite & bestseller
Angie's first book covers miniature foods for use in the house or market stall, ranging from deli through meat, fish and vegetables. Buy it direct from the author!
Thank you everyone who has taken the time to let us know how much you are enjoying the projects. Apologies to all the family members who aren't getting fed!
Click to buy print copy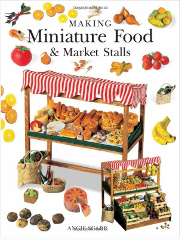 Miniature Food Masterclass
Angie's 2nd book
Start a voyage of discovery with Angie Scarr as she shares the secrets of her amazingly intricate work in a variety of materials and invites us to join in with her passion for miniature food.
Packed full of new techniques, materials and projects for all miniaturists to delve into, this book is illustrated with easy-to-follow, step-by-step pictures throughout.
Find out how to create a variety of food canes, liquid and translucent effects, glazes, moulding and veining all to amazing real-life effect.
Just some of the projects created with extraordinary attention to detail are: chocolate buttons, heart-shaped cakes, royal icing cheesecake, toffee apples
Angie Scarr is a highly regarded miniaturist, well-known worldwide for her intricate polymer clay work. She is constantly pushing the boundaries of her craft, exploring new techniques and materials.
Click to buy print copy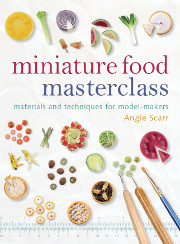 Miniature Challenges Part 1
Groundbreaking projects covering the innovation and progression of many of Angie Scarr's polymer clay techniques, which are now standard in miniature food making today. This series is a look back at the "Challenge Angie" series of articles from 2000-2005 in Dolls House & Miniature Scene magazine and other contemporary articles. A chance for a new generation to see these originals, now long out of print, all written in Angie's slightly irreverent style.
PART 1
Eighteen projects, A5, 62 pages.
Projects:
Wild Boar Head , Live Lobsters , A Brace Of Pheasants , Pineapples, Squid, Eggs, Baked Potatoes, Artichokes, Tapas, Alexandra Palace Fair, Sandwich, Red Cabbage, Sweets, Tongue, Peppers And Pizza, Tomatoes, Moulded Fish (Sardines in crates), Strawberries
Click to buy print copy
Click to read ebook parts 1 & 2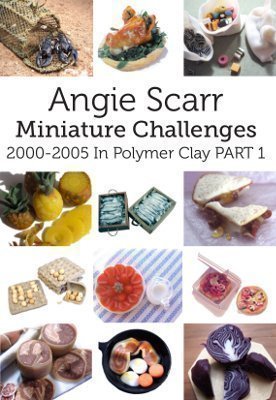 Los Retos De Miniaturas
El Libro Retos De Miniaturas
Los primeros 18 proyectos aparecidos en la revista DHMS. A5, 62 paginas.
Proyectos:
Cabeza de Jabalí, Langostas vivas, Faisanes, Piñas, Calamar, Huevos, Patatas Cocidas, Alcachofas, Tapas, Feria de Alexandra Palace, Sandwich, Lombarda, Dulces Ingleses, Lengua, Pimientos y Pizzas, Tomates, Pescado moldeado (Sardinas en cajas), Fresas
Clic para comprar
Clic para leer por Kindle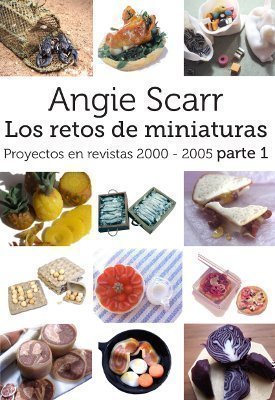 Les Defis Miniatures
Le livre des Defis Miniatures d'Angie
Projets de Magazines en Pâte Polymère. A5, 62 pages.
Tête de sanglier, Homards vivants, Faisans, Ananas, Calamar, Oeufs, Pommes de terre, Artichauts, Tapas, Salon Alexandra Palace, Sandwich, Le Chou Rouge, Bonbons, Langue de Boeuf, Poivrons et Pizzas, Tomates, Moulage de poissons, Fraises
Cliquez pour acheter
Cliquez pour lire par Kindle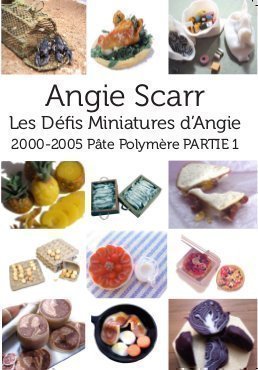 Miniature Challenges Part 2
PART 2
Twenty projects, A5, 78 pages.
Projects:
Kiwis, Xmas, Simnel Cake, Rhubarb, Crown Roast, Haggis, Wheelbarrow Of Vegetables, Pomegranates, Melons, Rubbish, Coconuts, Dog Biscuits, Encaustic Tiles, Garlic, Honeycomb, Rocket Lollies , The Titanic - The last meal, Asparagus, Plums, Red & White Onion Canes
Click to buy print copy
Click to read ebook parts 1 & 2